Through building real-world connections with those nearby, Sarah Friar started NEXTDOOR with one purpose: to cultivate a kinder world where everyone has a neighborhood to rely on. "We help and encourage people to take online conversations offline and into the real world.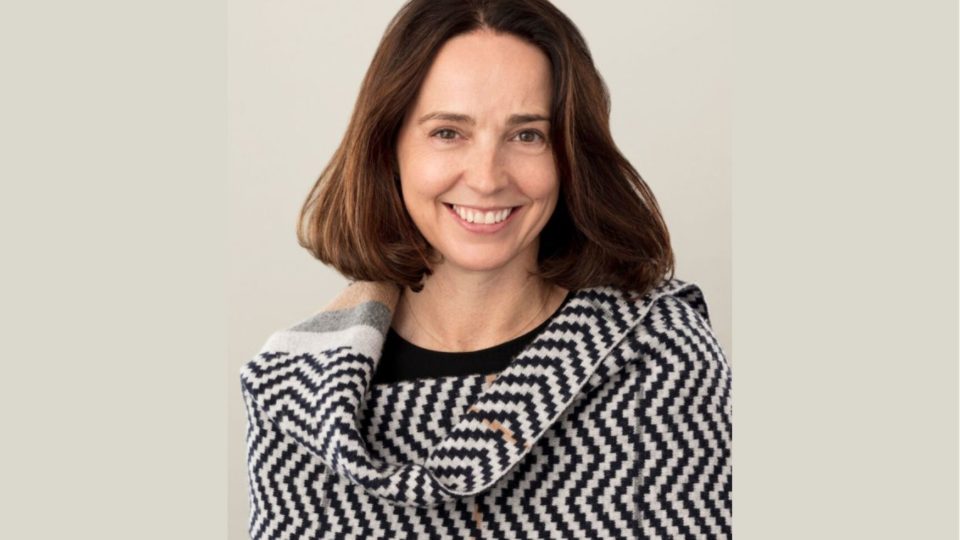 Tell us Sarah, what is your story?

Grew up in rural Northern Ireland:
The best way to get a flavor of the Troubles is to read about it. Would highly recommend Say Nothing: A True Story of Murder and Memory in Northern Ireland by Patrick Radden Keefe. Despite the Troubles my village had a huge sense of community and my parents were in the thick of it. My mum was the local district nurse and my dad – the personnel manager of the local mill. They were always helping neighbors.
Studied engineering at Oxford:
Loved sciences, the combination and the breadth of my Metallurgy, Economic and Management degree.
Cool fact – I interned on a goldmine in Obuasi, Ghana.
Joined McKinsey then did an MBA at Stanford and then Goldman for over a decade.
Did not pursue engineering – didn't feel like a career where I could belong, the field was too male dominated. At McKinsey I worked in S.Africa right after apartheid ended – there truly experienced how communities heal and revive.
Finally moved into an operating role and into tech, going from Goldman to Salesforce and then – to Square:
The 2008 recession made me re-evaluate my life choices – it may sound cliché but I needed to find my purpose. At Square I became passionate about small businesses – but could I do more for them and how? Ladies Who Launch, the non-profit I co-founded, was born and that's how I met and fell in love with Stinaa J shoes when we held our event in Stockholm.
Leaving Square and Joining Nextdoor:
The appeal of Nextdoor – spoke to the soul of doing good and having impact, community, the business opportunity, recognizing women don't see women CEOs so I could be a role model.
First steps/messages when joining Nextdoor: People first – built team starting with hiring Head of People, listening before making decisions. Feels like I have found the spot where my passions, what I'm good at, and what the world needs all overlap.
Your company Nextdoor is all about connecting neighbors, please share your vision with us!
NEXTDOOR IS LEADING THE NEIGHBORHOOD RESURGENCE
We begin with our purpose – to cultivate a kinder world where everyone has a neighborhood to rely on. How do we make this happen? Through building real-world connections with those nearby—neighbors, local businesses, and public agencies. This means real people, no anonymity. We help and encourage people to take online conversations offline and into the real world. A recent college grad who's in a new city, a mum who wants to connect with a mum's group, an empty nester who wants to find new friends. Beyond community building we are a high utility platform, the place to get trusted information, find the best plumber or best local coffee, and give and get help from fellow neighbors.
Great example here:
Emma-Jayne – Started United Neighbours, creating home cooked meals for the vulnerable (UK): Member Emma-Jayne in the UK used Nextdoor to see if anyone needed a home cooked meal during the pandemic. Soon after Emma-Jayne did her first post, she was contacted by two of her neighbours, taking her up on the offer of a home-cooked meal, as well as by others who wanted to help. They formed United Neighbours delivering 150 home cooked meals a week, with handwritten notes that let neighbors know they can call if they are feeling lonely. More info here!
Mental stress and inactivity is a growing problem all over the world, how do you find time to take care of your body and mind?
Personally I want to be the best corporate athlete that I can be. So just like how I approach a physical challenge e.g. when I set out to climb mountains like Kilimanjaro, Cotopaxi etc for work I have a similar discipline. If you want to be in good physical shape, you have to exercise regularly – every week, multiple times – and you have to be disciplined about what you eat, small interventions you make in the moment, and how you sleep. I also know that despite being born an eternal optimist, I do carry stress, sometimes significant stress. So just like how an athlete might shift their diet, or move to strength training from only aerobic exercise, similarly I set myself up to strengthen my own mental health by committing to practices that work for me and constantly tweaking my approach to continue to improve.
My practices start early in the morning and are a combination of mental and physical to start. I know that if I hit my email box without the endorphins of a good workout I'm not my best self. Smaller things stress me out more, bigger things feel a bit more overwhelming. So the first thing in the morning workout is the beginning of dealing with daily stress. I also most days do a short 5 min meditation at the end of my workout. A practice I picked up from Jack Dorsey and have really come to appreciate. BTW not even I'm excited when my alarm clock goes off, but it's the discipline that allows me to keep up my pace and energy of work. This works for me, for some of you late nights may be the answer, everyone has a different clock.
At the end of day I try not to make TV the wind down moment. I love to read, with an annual goal of 52 books. Last year I hit 35. How do I read so much? It's what I do for the last 30-45mins before sleep. This discipline also allows separation from what I'm thinking about all the time, separates screen time before bed, and allows for better sleep.
Finally one more addition from COVID times. I have about an hour commute to the office and during COVID clearly that fell away. But I realized leaving "work" and arriving at "home" in under a minute was not a good wind down to being a mum and a wife. When my husband responded one day "I don't work for you!" I knew I needed to find some transition time. That led to a new commute – a 30-45min walk around the neighborhood. I recognize not everyone can manage that, and I especially realize for parents with younger children that the sprint from 5-7pm is hard on all – food, baths, bedtime stories, bed, get up, bed, get up, bed…then you are asleep not your kids. But finding time to step away is an accelerant – you'll get work done faster, better etc.
We happen to know that you own a pair of Stinaa.J, tell us your best Stinaa.J moment or anecdote?
Honestly when I bought them! I walked out of the shop with them on and wore them the whole way from Stockholm to San Francisco. With a lot of admiring looks and compliments along the way.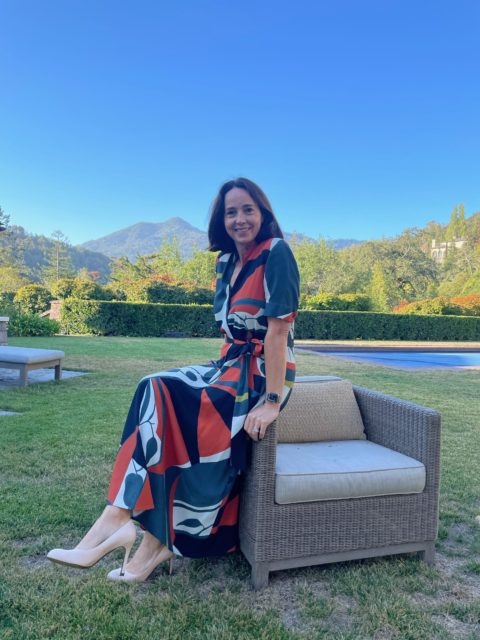 Finally, heels or sneakers?
For me heels…they're my weakness. Even during the pandemic when I was working from home if I had a meeting where I had to nail it I always popped on some heels. Often people will say shall we walk there, then look at my footwear and say "oh but you have heels on", to which I respond "there is nothing I can't do in a pair of heels!". Or one of my favorite quotes "Ginger Rodgers did everything Fred Astaire could do, except she did it backwards and in high heels."