As many as 70% of the population need extra help and support for their feet and body. This is due to all the load injuries that people with low and high foot arches experience during their lifetime.
We have 3D-scanned millions of feet around the world to then collect and analyze data. Based on that, we created the shapes of our different models of orthopedic insoles. The orthopedic inside is the heart of Stinaa.J.
Read more about our orthopedic high heels in a short interview with our technician Peter Hedström.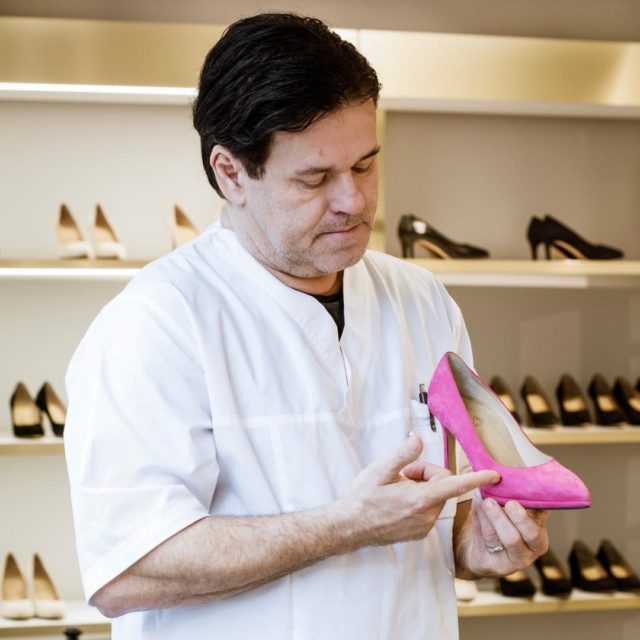 What pumps do you offer?
We offer two different pump models with heel of 6cm/2,36in and 9cm/3,54in. We started with the most challenging model of 9cm/3,54in and continued towards the lower heel height. All our pumps have an integrated orthopedic insoles that gives support across all the surface.
What distinguishes Stinaa.J pumps the most?
I would absolutely say it´s their biomechanical and orthopedic functionality! The main focus of our work is creating a great base of a shoe, so that the orthopedic magic can happen. The insoles are fully integrated and we build each shoe around the insole. The exterior is also very functional – a wider front, extra strengthened heel-cap, a plateau, the choice of leathers. That combination together creates stability, relief and excellent shock absorption for your feet, in different environments.
What materials do you use externally?
It varies depending on a shoe model. The different types of leathers we use have both an ability to provide stability, and ability to shape itself after its owners feet over time. In general, we always ask for a little patience. When you buy your first pair of Stinaa.J footwear, you should take your time and let the insoles work on you. Ideally, the insoles mold after your feet and learn your feet to land in their most natural position with every step.
For the exterior we mainly use high quality leathers, grained, patent leathers and suede. We also have some models in textile as our Nora boots. More product news are coming, we are currently working on something very special (can´t tell yet!).
What do your customers say, what are they most satisfied with when it comes to your pumps?
Many experience that they feel better, have less pain or discomfort in the feet, knees, hips or lower back. Many get back to heels after years of using flat footwear.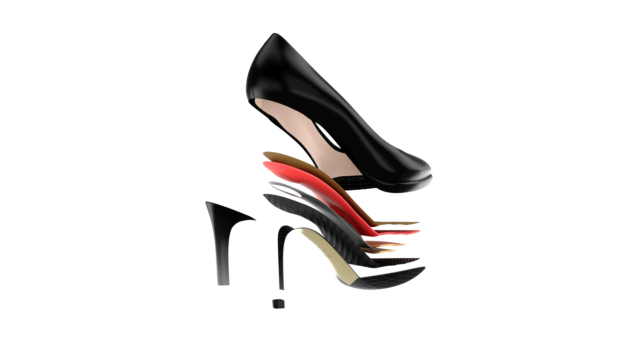 If feet land slightly outward or inward, the stability is disturbed.

The

ability to absorb shocks decreases drastically.

This creates a vicious circle and leads to discomfort, pain and injury.
Why do you often say that Stinaa.J shoes is an investment?
We are positioning ourselves somewhere in between tech/innovation and fashion. Our shoes are unique and it took us many years of research, development and patent work to finally launch and introduce this kind of product to the market.
We build our orthopedic insoles with the best materials you can find today. We do not compromise, otherwise the insoles would not be able to provide the best relief for the body. The materials we work with are used in space industry, professional running industry and are expensive. Put it together with premium exteriors (leathers) and all the work around – and you have the price we charge. See it as an investment in your well-being – classic beautiful shoes that are also good for your body.
We can reflect on the price more and calculate further. If you have pain in your feet you test some new footwear, a pair or two. This doesn´t really help so you end up at a traditional orthopedic technician´s office. They mold the insoles that will only work as inserts (only for flat footwear). You wait for them, pay for them, use them and get back to adjust and so on. The final cost for that is much more than a pair of Stinaa.J shoes. Ready to do the job. Work for most feet. Made of the best materials available today. Besides, Stinaa.J is now big enough to be able to order larger quantities and negotiate the price, otherwise our shoes would have cost even more.
What is the difference between pumps with 6cm and 9cm heels?
Only the height of the heel and how we adjusted the insoles to the heel. The insole is the same and ensures maximum support both when standing and walking. For the 9cm pumps we have created a plateau. This way the heel is more kind to your body and we decrease the strain on the body's joints and muscles.
Tell us more about the construction of Stinaa.Js 9cm pumps.
Our 9cm/3,54in pumps are the beginning of it all, the beginning of Stinaa.J. A very demanding, challenging product, both in terms of design and materials. We were discovering a whole new approach and technology. We have traveled all over the world, collected data on how people move, what types of feet they have, what kinds of injuries they get from standing/walking. We then mapped the traditional shoe market and developed a whole type of a heigh-heeled shoe.
There is nothing natural about walking in high heels. We never claimed anything different. But we know that women (and some men) love high heels. So we created the heels that are so packed with orthopedic features that you have a very little (close to none) risk of potential injury.
Why do not you make heels with a lower heel of 3 – 4cm? I have heard that they are best for the body.
We have chosen to focus on solving the real challenge first. Our patent also covers lower heel heights, so perhaps these will be included in our future collections. It has taken us over 3 decades to map all data and design the insoles, 5 more years to develop a product with this heel height, so now we can develop pumps with lower heels at a much faster pace.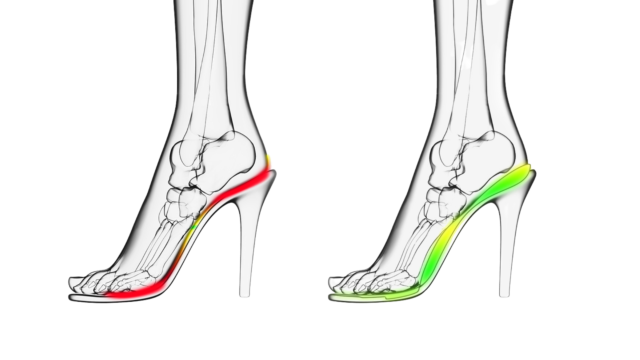 We create shoes that provide support and teach your feet to move correctly.

Our shoes take care of already damaged feet and significantly reduce the risk of future injuries.

Can I dance in your heels?
There is no easy answer to this question. This is very different from individual to individual: your body structure, posture, your age – all matter. We orthopedic technicians love when people move, but at the same time we believe that it is important to think about the type of movement, the conditions, the speed. Try, listen to your body, try again.
I have hallux valgus, can I use Stinaa.J shoes?
Our front arch support has a wider load-bearing pad, providing the frontal arch with a very good relief. The whole front of our pumps is wider. This all gives your feet more space but also helps to reduce the pressure load on big toes´ joints. So yes, absolutely.
Read more about what our shoes do for you.