Celebrate an end to pain and discomfort with Stinaa.J revolutionizing footwear for your well-being
Discover how Stinaa.J is changing the game in the footwear industry, bringing you innovative solutions to alleviate and protect your body, whether you're on the move or at rest. Say goodbye to generic insoles that offer no orthopedic support, and say hello to a new era of foot comfort and injury prevention.
Stinaa.J on a mission to raise awareness about foot injuries and preventive measures because everyone should know how to safeguard their bodies from the harm caused by ill-fitting shoes and unforgiving surfaces. Our shoes and orthopedic insoles are the result of 3D scans of millions of feet and decades of orthopedic expertise. These insoles are like no other, offering relief, promoting proper body alignment, activating your feet, and restoring their arch. They also provide superior support, cushioning, and control, all while molding to the unique contours of your feet, thanks to a layer of memory foam.
At Stinaa.J, we're committed to helping you create a healthier workplace, starting from the ground up. Our shoes and insoles cater to various industries, including offices, healthcare, service, hospitality, and construction.
WORK
Understanding your feet and their needs
Did you know that the human foot was designed to walk on natural, cushioned surfaces like grass and soil? Your feet are incredible structures, featuring 66 joints, 250 ligaments, and 38 muscles intricately connected to the lower legs. To feel your best, these components need to work together harmoniously. When they don't, it can lead to stress injuries, causing discomfort ranging from mild to severe pain, often accompanied by swelling, tenderness, and stiffness.
Many of us spend a significant portion of our workday standing or walking, and it's no surprise that 8 out of 10 people experience foot or back pain. The culprit? Inadequate footwear and unforgiving surfaces. That's where Stinaa.J comes in – our products are designed to enhance the synergy between your muscles and joints, reducing the risk of injuries and enabling you to stand and walk comfortably for extended periods while promoting proper body alignment.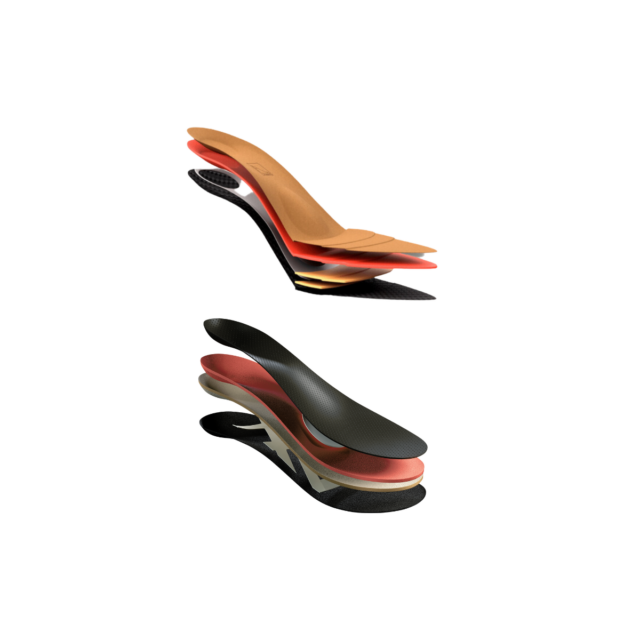 Our insoles are the secret sauce to our success. They work for all foot types and conditions, preventing and treating injuries and aiding in the healing process.
We believe that a healthy body starts with your feet. Stinaa.J's patented orthopedic insoles correct your gait and align your body for ultimate comfort and relief.
3-Step System
Orthopedic system for heels
Our patented insoles, fully integrated into every pair of Stinaa.J high-heeled shoes, ensure optimal load distribution. Constructed from three layers of advanced materials developed by the space industry, including Medical Poron, the insoles provide a custom fit and superior shock absorption.
Read more
5-Bar System
Orthopedic system for flats, sneakers, and other low shoes
Our patented system employs five different bars to enhance comfort, support, and relief for your feet. Three horizontal bars bolster the arches of your feet, promoting movement and shock absorption, while two vertical bars enhance stability and proper alignment for feet, knees, and hips.
Read more