Proper shoes provide the correct support for your feet and body. We have created boots that teach your body to move in its most natural way, giving you the best of two words: preventive healthcare and fashion.
Read more about our orthopedic boots and boots in an interview with our leading orthopedic technician Peter Hedström.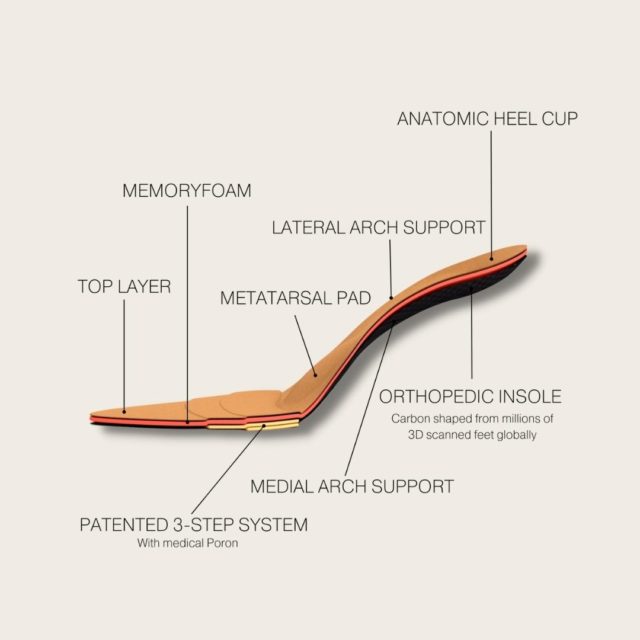 What kind of boots do you offer?
Stinaa.J creates both high-heeled boots and flat boots. Always with our patented orthopedic insoles. Please, see all our orthopedic boots.
What is so special about Stinaa.J boots?
We start from the midsole – it should fit our orthopedic insole perfectly. Stinaa.J's world patent for flat boots is adapted to boots with a lower drop*. They are the perfect choice for everyday life: office, commuting, errands, leisure. Our second patent focuses on boots with a higher heel and a higher drop*. The insoles in the boots with higher heel are fully integrated – you can not take them out and use in other shoes.
What kind of outer materials do you use in your boots?
We have chosen the best leathers from Spain, Portugal and Italy. The materials must have an ability to provide stability, shape themselves to the shape of the foot over time and look great. These are our three main criteria.
What kind of customer feedback do you get?
Our customers love the combination of the orthopedic functions with the boots' design and fit. Several customers point out that they feel better overall, many get better in their joints and muscles in the feet, legs and hips. We love to hear this, this kind of feedback motivates our team the best.
Stinaa.J boots are quite an investment, could you tell us more?
As I explained earlier in the article about our orthopedic pumps, we have invested a great deal in developing a unique solution – an innovative orthopedic insole that takes care of injured feet and prevents future strain injuries. The design and the many different materials we use in our insoles are costly. At Stinaa.J we do not compromise with the choice of materials, otherwise our shoes and insoles will not do their job. It has taken us over 3 decades of working with patients and over 4 years of patent work to land this unique product we have to offer today.
What are the functional differences between a 6cm/2,36in and a 9cm/3,54in heeled boot?
Only the height of the heel, just like with our pumps. Our orthopedic insole has a stair function that ensures maximum relief both when standing and walking. The patented function creates a plateau that provides a smaller angle, which means that the actual height will not be 6/9cm (2,36/3,54in) but smaller. This then contributes to less strain on the body's joints and muscles. We simply "trick the eye" a little. What you see on the outside is one thing, what is hidden on the inside – is the secret behind our orthopedic footwear.
Tell us more about Nora och Isabel boots with a 9cm heel
In these two models, we have created two completely different heels with different functions regarding stability and rotation. Nora boots have a sleek silhouette and a more narrow heel. That heel is "best in class" in terms of orthopedic features. Isabel boots have wider heels that provide maximum stability. Both models have exactly the same orthopedic inside.
Tell us more about the construction of Hazel and Olivia boots with 6cm/2,36in heel
These two models a "made for walking .." – as a classic song goes. Stinaa.J's three most important values such as stability – relief – shock absorption really come forward. The boots Hazel and Olivia are made for everyday use: easy to put on, extremely comfortable shoes to walk in, very stable. When you start walking in them, the design of the heel makes the rolling function from the orthopedic insert work in the best way. I highly recommend Olivia and Hazel to all women.
Will you make boots for men?
We have just solved the challenge and created probably the world's best men´s sneaker – Hugo. After that, we are now ready for the next challenge, such as boots. Well-designed, stylish, with innovative orthopedic features. So yes, soon.
What about the orthopedic rubber boots by Stinaa.J?
We definitely have the knowledge to create an orthopedic rubber boot. At the same time, we know how risky this project can be, the market in the segment is quite underdeveloped, orthopedically. I can share so much that we are researching the field.
Read more about what Stinaa.J shoes do for you.
* Drop is the height difference between the shoe's heel and forefoot. The larger the drop, the steeper the angle between your heel and forefoot. For example, when you are barefoot, the heel and forefoot touch the ground at the same level: the drop is 0. When you walk in shoes with heels, the drop gets bigger. Drop is something that has been discussed for many years, mostly because the wrong choice of footwear (footwear that is not adapted to your natural gait) can increase the risk of injury significantly.
A drop that does not suit your natural step pushes you toward establishing a new step pattern. A new step pattern causes stress in your muscles and tendons. In the beginning, this can cause discomfort, some aches and pain. The condition can quickly develop and manifest as strain injuries.