City chic or casual, our new Nora boots will be a part of your wardrobe for many years to come. The choice has never been easier - the boots both look good and help you move freely without pain all day long.

Sleek and sophisticated
Our NORA ankle boots are crafted in black suede, black leather and glitter. Made in Portugal, they feature a sharp pointed toe and sit on 90mm heels. Wear yours to instantly elevate day or night dressing.
A word with Stina Andersson, Creative Director & Founder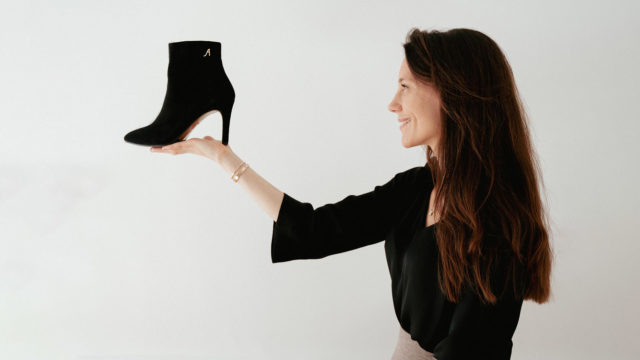 Nora is a new design for this autumn, tell us about it! What was your inspiration?
Nora is the perfect combination of two worlds – our orthopedic insole together with a nine 9 cm sophisticated heel. The inside will support your feet and body through the day and the outside will lift your outfit with its sophisticated but still fun design.
When should I wear Nora?
When you are planning to dance all night! Or when you have that important meeting and want the extra confident push with a pair of heels – but without the pain. It's a 9 cm heel that your body and wardrobe will love.
You've also launched a new signature logo, what's the background?
We wanted to strengthen the visual identity of the brand. We are proud of our logo, but for the signature branding, we decided to simplify it to create a more clean and clear brand message. We hope you love it as much as me!