Whether you consider yourself a classic, modern or more alternative bride, the ultimate wedding shoe reads Stinaa.J. All our shoes support the natural movement and shape of your foot, allowing you to enjoy your special wedding day and night at its best!
HOW TO CHOOSE THE PERFECT PAIR?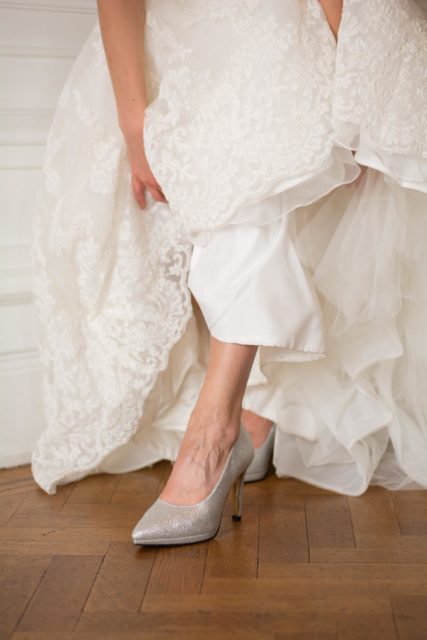 GUIDE
We have have created a small guide for you, in order to truly enjoy your most important day of the year! Here are some tips that are good to keep in mind when investing in a pair of bridal shoes.
Depending on season, what time and how much you have walked during the day affects the size of your foot. When you try shoes on in the store, they usually fit your foot perfectly. Unfortunately, this is often the reason why you buy to small shoes. Which you realize when you've worn them for an x number of hours, and your feet swell. The fact is that feet may swell up to 5% in a day. The important thing to keep in mind when choosing your shoes is to choose a pair where you feel you have some space to swell in during the evening. If you know that your feet tend to swell a lot, a tip is to have in a heel grip from the beginning of the evening, then take it out when you swell.
It can be difficult to choose a shoe model when getting married, what we think is most important is to choose a couple that are comfortable and that you can use more than once. It's easy to forget that bridal shoes don't have to be white. In order to be able to reuse the shoes so that the investment becomes sustainable. We have customers who buy everything from nude, dark blue, pink, metallic and bordeaux.
It's always good to impregnate your shoes before use, if you want them to stay nice and last a long time. Make sure to have a suede brush close at hand when you need to brush off dirt.
Heels can be the obvious choice when you get married, but not for everyone. Sneakers are trendier than ever and a good option for those who do not want or can use high-heeled shoes. We offer bridal sneakers in the colors metallic and white with gold details so that they still feel stylish and dressed.
Customize the shoes – Get them worn in well in advance before the big day. If It's not enough to ease the shoes up yourself, we recommend stretching out the shoes in our store or at any shoemaker. To stretch out the shoes is also good if you have different sizes of feet, which the majority have. You can then choose to stretch out one shoe.
To think about during the evening
Wear support stockings and / or tights up to compression grade 1 to reduce the risk of swelling.
Wear shoes that are spacious enough and prepared for any swelling that may occur due to heat, sedentary, and possible alcohol intake. The swelling is usually around 5%.
Wiggle and roll on your feet while sitting still during the evening to keep your blood circulation going.
Stand up at regular intervals if possible.
Exercises to do to prevent pain
Stinaa.j wedding shoe experience
Your appointment will include an exclusive 3D-scan session in our Stockholm studio, you and your friends will have l the entire showroom to yourself with assistance from our stylist when trying on our shoes. This meeting is simply for you to get inspired and help with finding your perfect shoes, your appointment is not binding for any purchase. After the scan we can adjust the shoes according to your wishes. We'll treat you with some bubbels & snacks, and also give you and your friends a 15% discount on your purchase.